New Jersey HVAC Company Selects Ricoh MP W6700SP over OCE PlotWave 450
Just about a week ago I was able to visit a client with an existing KIP 3000 multifunctional wide format device with hopes of providing a new Ricoh MP W6700SP.  Seems the KIP 3000 had received quite a workout over the years and was closing in the end of it's useful life.  After spending about fifteen minutes with the device and the operator,  I found that the KIP 3000 was purchased pre-owned,  and the volume was about 3,000 square feet a month, in addition the KIP 3000 has a dual roll paper feeder.
Our next step was to meet with the users of the KIP 3000 and to uncover any workflows for scanning, printing or copying.  Our discovery process enabled us to pinpoint the clients needs the following.
Clients Needs
Paper sizes included 30×42 and 36×24
PDF workflow for printing & scanning
Average monthly volume of about 3,000 square feet a month
Need for color scanning
Need for new device to have a dual roll feeder
Ability to scan to multiply destinations (server, folder and email) with the touch of one button
Ability of the new device to exit prints to the front of the device
Our client had ruled out getting another KIP, thus the two devices that were under consideration was the Ricoh MP W6700SP and the Oce PlotWave 450.  In recent weeks, I've seen a few of these Oce PlotWave 450 devices quoted.  In addition, I've done my homework with the Oce 450's.
Two Reasons
These are the main two reasons why the client choose the Ricoh MP W6700SP over the Oce PlotWave 450.
The Ricoh MP W6700SP offers a flat stack tray for originals.  Which means the client does not have to "baby sit" the original documents while they are being scanned. The Ricoh MP W6700SP allows you to feed one document at a time and you don't have to retrieve those pages until the scan is complete.  Not so with the Oce PlotWave 450.  After each document is scanned you have to wait for the original document to be returned to you and you then need to remove that original document from the device.
The Ricoh MP W6700SP offers a 100 sheet exit tray that allows the prints to stack right in front of you for easy removal access.  The PlotWave 450 only exits to the rear and then stacks the prints in a stacker tray that is located at the top of the device.  See pics below for each device.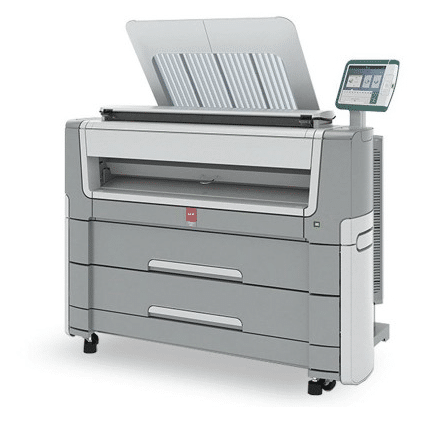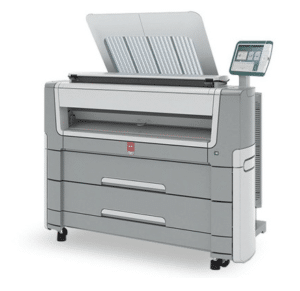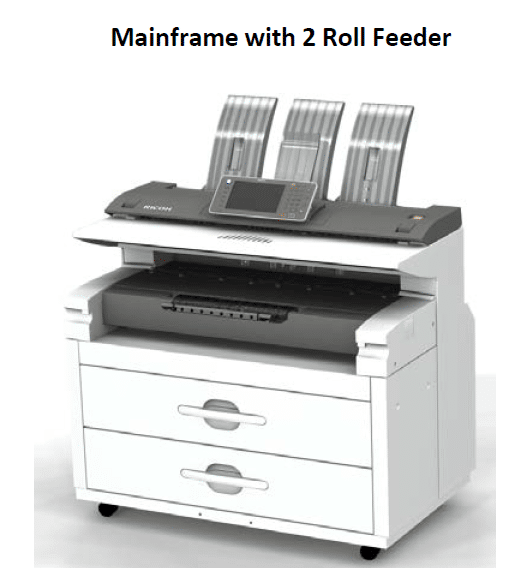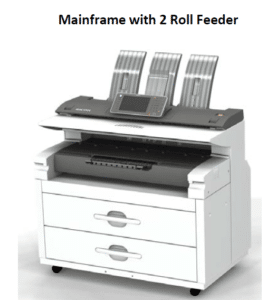 Oce PlotWave 450                                                  Ricoh Mp W6700SP
While both units are somewhat similar the Oce 450 Prints at about 1.25 "D" size pages faster than the Oce.  Thus, a little more speed, but not less in price.
-=Good Selling=-