New Jersey's Most Popular Wide Format Printer
Ricoh MP 6700SP
Enhancing the way you communicate and transform your business
For the architects, engineers and contractors who do business in New Jersey's fast-paced environment, communication is everything. Those who can deliver the precision that jobs demand, and meet critical deadlines on time and on budget, have a significant edge.
With advanced tools, best-in-class features, greater security and the power to make information more mobile than ever, the RICOH MP W6700SP opens up a world of possibilities.
• Black-and-white printing at 6.7 ppm ensures critical deadlines are met
• High-resolution color scanning and scan-to features advance the pace of business and reduce costs
• An innovative, space-saving design maximizes ease of use • Print documents in a horizontal or vertical format for greater flexibility
• SDK integration allows for customized solutions and unique workflow applications that streamline your business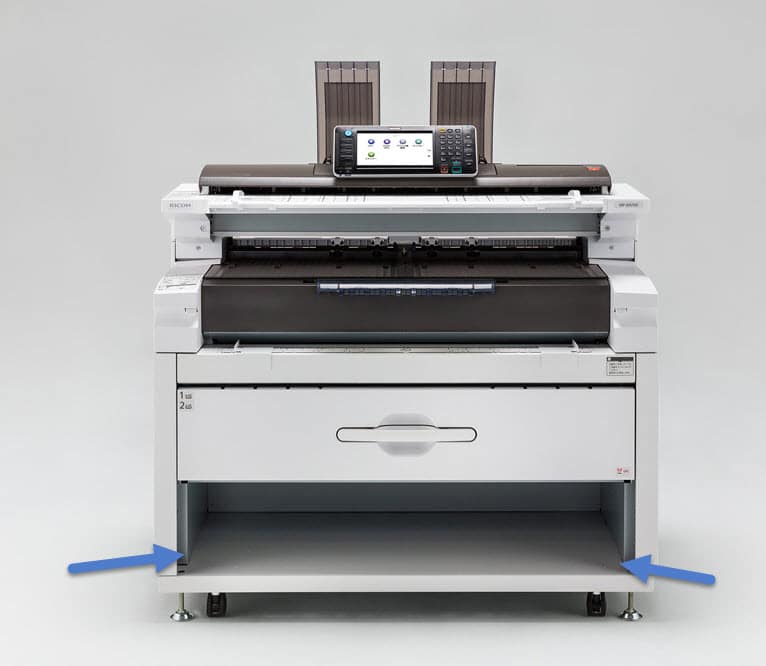 Maximize productivity with smart tools and intelligent technologies
Do more from one centralized hub
The RICOH MP W6700SP, with its full-color touch screen LCD control panel, puts a robust suite of tools and multifunction capabilities right at your fingertips. Print, copy, scan and distribute plans, drawings, maps and more, all at the touch of a button.
Empower your mobile workforce with remote capabilities
Employees out in the field can keep projects moving by sending and printing jobs remotely using Web Print Tool. Walk-up users enjoy the added convenience of printing from and scanning to their USB drive or SD card directly at the control panel, further enabling ease of use.
Original Output Stacker
Space-saving upper original output stacker holds up to 50 D-size originals for minimal interruptions when making copies and convenient retrieval of copies and prints.
Color Control Panel
Newly designed 9″ tiltable full-color touch screen LCD control panel interface makes walk-up operation easy and intuitive. Animated step-by-step guidance helps users change toner and clear issues if they should arise.
Color Scanner
Our built-in color scanner allows users the ability to capture color markups in-house. With the many scan-to functionalities (Email/Folder/FTP/URL/Document Server/USB/SD Card) users achieve greater mobility, while improving workflow.
Clamshell Design
The intuitive, user-friendly front access clamshell design provides access to all areas of the paper path and makes toner and paper roll replacement quick and easy.
Standard 2-Roll Drawer
An intuitive 2-roll drawer allows for greater flexibility and supports multiple media stocks and types, including plain paper, translucent and vellum. The front-loading drawer allows for easy access and system placement in tight environments.
USB/SD Card Option
Users can scan directly to a USB or SD card and stay on the go. Ideal for the mobile employee or visiting clients who wish to capture documents in electronic form for output at a later time.
Front Copy Exit
A standard front copy exit tray allows for stacks up to 99 D-size documents, making for efficient continuous copying.
Storage
Additional storage space is provided directly below the MP W6700SP's standard mounted 2-roll drawer, providing a convenient place for storing toner and other printing supplies, reducing clutter and saving floor space.
Optional Front & Back Copy Stackers
Front and rear copy stackers capture oversized output allowing users to expand flexibility and high-volume capabilities.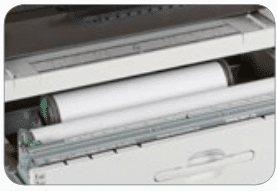 What's Included:
Ricoh MP 6700SP
Dual Roll Feeder (2×500 feet)
Developer
Two cartridges of toner with a yield of 25,000 square feet
Ethernet Card
Print from USB Drive, Print from SD Card
Scan2USB Drive, Scan2SD Card
Scan2email, scan2folder, scan2ftp, scan2harddrive, scan2url
Color Scan
Power Cord
Storage cabinet
Delivery, Network Install and Training
Contact Art Post apost@stratixsystems.com or apost@p4photel.com 7632.977.1211