Six Things That Salespeople May Not Mention About the Ricoh MP W6700SP
New Jersey is one of the those interesting markets for Architect, Engineers and Construction Companies.  The Northeast and Southwest is jammed with businesses that use wide format printers and plotters.  While the Northwest and Southeast are much more rural, however, there is still an abundance of companies that need wide format devices, especially the Ricoh MP W6700SP.
One of those features that salespeople will not mention is that the front exit tray of the Ricoh MP6700SP will not stack "E" size drawings.  As a matter of fact, once you print to the front exit tray those "E" size documents will fall on the floor.  Not so good for those that don't have a lot of room.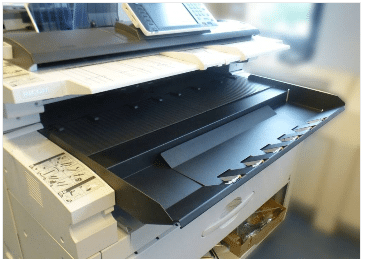 However, there is good news.  The Copier Solution Store designed a custom exit tray for those "E" size documents.  We seen it, tested it and placed that custom exit tray on our demonstrator equipment.  The tray installed in less than five minutes and performs well for stacking up to 100 "E" size documents.   Here's a link for the Ricoh Output Tray ROT-1
Our second feature is the ability to use a TWAIN driver for scanning with the Ricoh MP 6700SP.  The TWAIN driver is used for "pull" scanning to "Line of Business" (LOB) applications.  Users may have the ability to scan a wide format document directly to a client record.
Our document server is our third choice. A portion of the Ricoh MP W6700SP hard drive is dedicated to the document server (I like to call it a document library).  Users can either scan paper based documents to the document server or print them to the document server.  Documents can then be stored for easy reprints with out the need to access a PC.
Fourth on our list is Original Rear Output feature for Ricoh MP W6700SP.  There are five plastic "fingers" located at the read of the scanner.  You will have to remove the Copy Output trays in order to access them.  Those "fingers" can then be extended to enable 24×36 inch documents to lay flat once they have been scanned.  As I like to say, there is not need to baby sit each scanned page like you do with the KIP and OCE devices.
Fifth is the Scan to folder registrations.  We can register up to 2,000 client folders, with a maximum of 50 folders selected per send.  Scan the entire bid to a dedicated folder on the hard drive and then select that bid to be sent to 5 or 10 other users at your company.  Eliminates the need to scan back to your PC and then distribute.
Anti-Humidity Heating Elements stack up as the sixth feature for the Ricoh MP W6700SP.  For Architects, Engineers and Construction companies that are located at or near the Jersey Shore, the Anti-Humidity feature is perfect!  No longer do users have to suffer with damp paper or moisture on the drums.
I can only hope that after reading this, that you have a better understand of why the Ricoh MP W6700SP is an excellent choice when considering wide format multifunctional device. You could also check out this blog Ten FAQ's for the Ricoh MP W6700SP.
If you're in the business of selling wide format devices, please take a trip to our industry site Print4Pay Hotel.
-=Greetings from Sandy Hook=-