Ten FAQ's for the Ricoh MP W6700SP Wide Format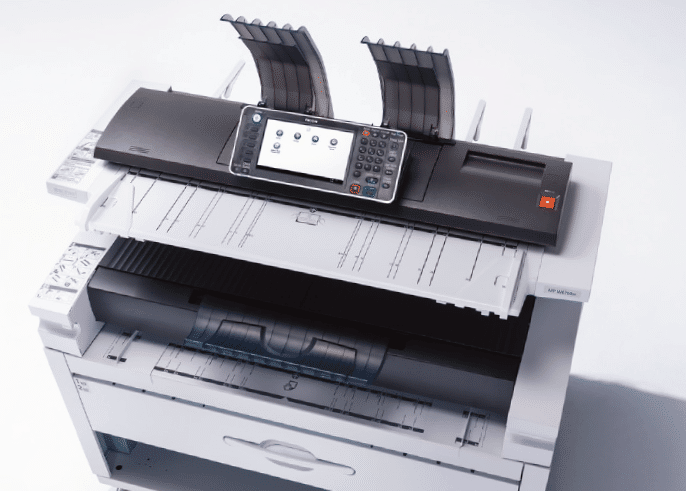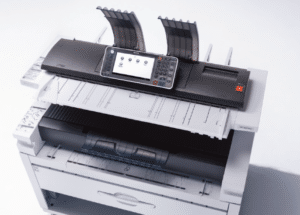 My main focus in New Jersey is to help companies reduce their costs with the Ricoh line of wide format printer/copier/scanners in Monmouth County, NJ.
On occasions, I can also help other Architects, Engineers and Construction companies throughout the entire State of New Jersey for their wide format needs.
Thus,  I thought I would put together a list of the most frequently asked questions that I hear for the Ricoh MP W6700SP in New Jersey.
How many rolls of paper can the Ricoh MP W6700SP hold at one time?  The W6700SP comes standard with the ability to hold two rolls of paper, each roll can have a maximum length of 500 feet and 36 inches in width.
Can I scan directly to Dropbox or Google Drive?  Yes you can, and that can be easily set up in the scanner address book.  Just enter the path to the folder and then make sure you enable your sharing options.
Can I scan to my business line of software, like Sage?  That depends on Sage, if Sage has the capability of using a TWAIN scanning driver, then the answer is yes. The Ricoh MP W6700SP is unique that it is the only system in it's class that offers a TWAIN scanning driver.
Can I stack multiple wide format drawings and have then scan or copy like my copiers? At this time that would be no, we're hoping that sometime in the future the Ricoh wide format devices will offer automatic feeding of originals.
Can I substitute the 36 inch roll of paper in lieu of an eighteen inch roll of paper so that I can print check plots?  Of course you can, one of the nice features about the MP W6700SP is that it can accept a roll of paper all the way down to 8.5 inches.
One of the items I don't like about our existing wide format device is that it takes so long to scan. I have to scan each page and then wait for that document to return to me and then scan the next page.  Does the Ricoh MP W3600SP offer some type of document stacker, meaning once I put the document in I don't have to babysit it and wait for it to come back to me for removal?  Yes, the MP W6700SP is the only wide format system in it's class that will stack the original documents once they have been scanned.
Can we color scan our color renderings of our home models from our new Monmouth County project?  Yup, in fact you can scan from 100-600dpi.
What type of power is required for the MP W6700SP.  The system uses regular 120V, 20A
How about mobile printing, we have many people on-site in Freehold, would they be able to print from their tablet or smart devices from the field.  Yes, that can be accomplished with the addition of Ricoh Cloud Printing. 
What consumables do I need to purchase for the MP W6700SP.  If you're not under our complete care agreement, you would need to purchase toner and paper for the device.  Toner will last about 4,500 square feet. Developer is required at or around 90,000 feet. If you elect to take our complete care agreement, all of your consumables, parts, and on-site labor is included. Your only cost is for paper.
Hope this helps answer any questions that you have. If you're in need of a wide format plotter, scanner, printer in New Jersey or if you have any additional questions then please send me an email.