Architect adds Ricoh PrintCopyTool in New Jersey "Simplifies CAD Workflow"
A few months ago I was able to sit down with an existing client to discuss the benefits of Ricoh PrintCopyTool.  Our client was near the end of their Ricoh MP W5100en wide format printer/scanner/copier lease.  The Ricoh MP W5100en was a little long in the tooth along with using the older Ricoh Plotbase software. In addition our client had also added a color plotter about a year ago in order to print color renderings and  occasional color prints.
When asking some discovery questions of how they use the color plotter. We found that our client was scanning legacy color wide format documents and then printing them to the color plotter.  The time to scan, name and save the file was proving to be a real pain for them in order to get a color copy.  In addition there were additional steps needed in order to find and print the scan.
We offered up PrintCopyTool to the client as a way to improve their workflow when needing copies of color legacy documents. One of the nice features of PrintCopyTool is the ability to color scan on a Ricoh wide format device and direct the output (print) to any color plotter.  Thus, our client was able to save an incredible amount of time.  Years ago a wise Architect told me that "time is money" and if a new device can save him time then the decision to add new technology is very easy to make.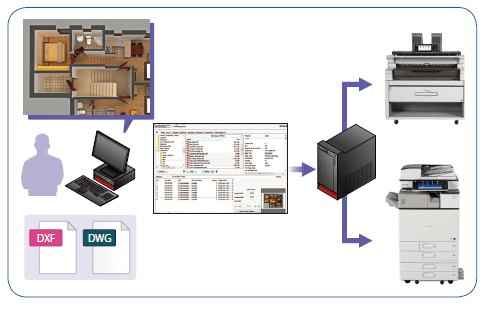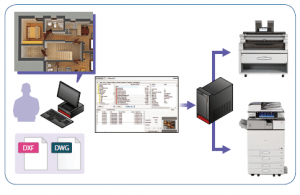 PrintCopyTool Features
*Enables batch printing of multiple documents as one job
*Range of settings for
*File Selection
*print preference
*automatic selection of output device, saving and loading print jobs
*reprinting of printed files and date stamping. Set the number of copies you wish to print.
*Automatic selection of the most suitable device whether a Ricoh MFP or third party Plotter (HP, Epson and more)
Preview and Drag & Drop function for ease of use
Reverse order printing for output flexibility (especially useful if you're adding a Tameran output stacker
Copy Tools for Color Copying
Wide format color copy; Color scan on MFP for direct output with any inkjet plotter
Easy Operation panel and there's no need to use a PC.  Select the output device, number of copies required
Imaging Editing is also pretty cool.  You can perform auto tilt correction, under color removal, dust removal, and format conversion
PrintCopyTool is an option that's available with the Ricoh MP W6700, MP W7100, MPW8140 and the CW2201SP.
If you're interested in seeing the brochure, then click here.  If you're interested in knowing more about PrintCopyTool and how the software integrates with Ricoh wide format MFP's, then please send an email to apost@p4photel.com.
-=Greetings from Sandy Hook=-