Architect Selects KIP C600 Wide format printer
It was just a year ago when Stratix Systems placed their first KIP C600 wide format printer with an Architect in Shrewsbury, New Jersey.
Our client had a failing older Ricoh wide format plotter that was made about 50 prints per day. After 8 years of service the time was right to look for a new color wide format printer. Our client had three needs when looking for a new printer. First and foremost was the ability of the wide format to print in color. The other requirement was for decent color print speed (that's the way the client explained it to me) along with color prints that would not run or smear when they were marked up.
Color wide format toner
While looking at inkjet color wide format printers they found that most images and lines would smear when they highlighted the printed image with an office highlighter. The smearing presented an unprofessional image when showing marked up documents with existing and potential clients. The KIP C600 uses dry (powder) toner thus the use of office highlighters would not damage or smear the images on the drawings. It was the demo with the colored highlighters and it was kind of fun trying to get the toner smear. Of course it wouldn't.
Print Speed for KIP C600
We presented our KIP C600 wide format printer because it met two of the clients basic needs. Besides the color markup request the client was also focused on the speed of print. The KIP C600 is also rated to print up to 360 "D" size prints per minute.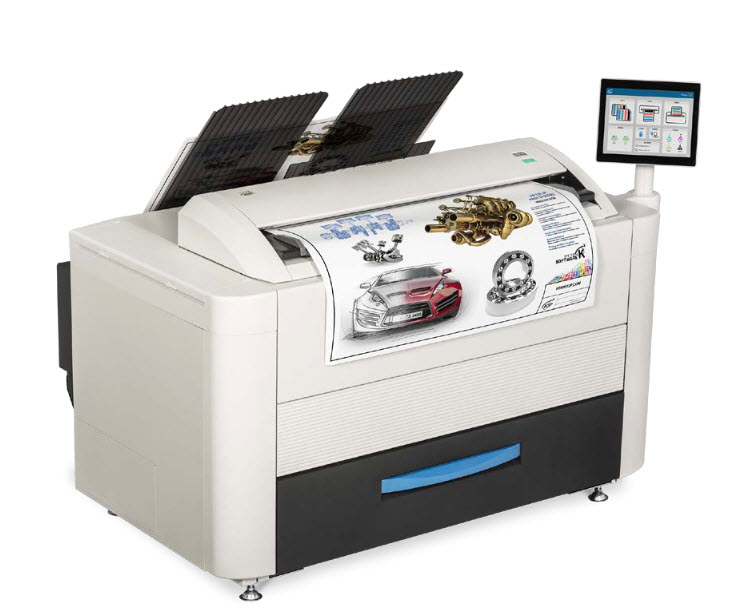 KIP System Software
While performing the demonstration the client also liked that the KIP C600 will store prints on the KIP system software. One feature of the KIP software allows the client to quickly access the print for a quick re-print. Other wide format devices don't offer the system software like KIP. Thus the user needs to find the file on the server and then re-print the wide format printer. Having the KIP allows users to save time and we all understand that time saved translates to dollars saved.
If you're looking for a brochure on the KIP C600, you can find that here.
If you're interested is seeing a demonstration we are now offering virtual appointments for our New Jersey clients. You can email me apost@stratixsystems or apost@p4photel.com to schedule or if you need additional information.
How Long Will a Wide Format Printer Last
-=Greetings from Sandy Hook, NJ=-