Surveyor in New Jersey Selects Ricoh Wide Format
Two years ago I met our client at an industry show in Atlantic City, New Jersey. We demonstrated scanning, printing and copying all in color for the Ricoh Wide Format. When the demo was finished we took a cup of water and poured a small amount on the print to show our client that the ink would not smear or run.
There was some interest however our client had an older HP 36 inch inkjet plotter that was doing the job. Our client did not move forward with an order because the HP was still doing the job. I agree, why spend money when you don't have to. Want and need.
Fast Forward to this Spring
By early spring if this year another show had passed in Atlantic City. Our client reached out us in early May because his HP inkjet plotter finally died. Our client was interest in color copying, color printing along with color scanning for the new plotter.
Due to COVID19 we weren't able to meet in person, but we were able to have a virtual meeting with many email conversations. One of their concerns was the physical size of multi-functional plotters that were offered. Our client is located on the second floor with two sets of stairs with a landing. The landing and the overhang would not allow enough room for the standard wide format printer for delivery.
What Our Client Liked About the CW2201
Ricoh CW2201 is a two piece plotter which means it's much easier to deliver and install with locations that have stairs
Printed drawings will not run or smear when the paper gets wet or damp
Ability to have two rolls of paper on hand, one for 36 inch drawings and one for 11×17 drawings. Most clients are not aware they can purchase rolls of paper that are 17 inches wide
Color scanning was also a plus since they could now start to scan their older legacy drawings
Ability to stack prints that exit to the front of the printer
Long life cycle with years and yeas of service "How Long Will a Wide Format Printer Last"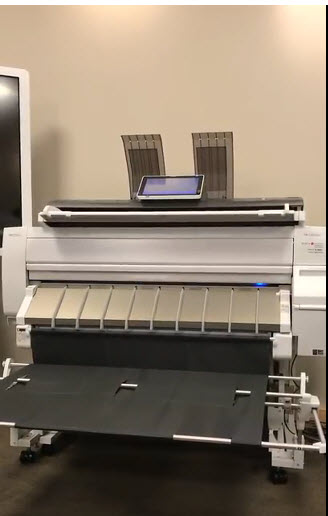 Summary
The Ricoh CW2201 is a great replacement for for those older HP color plotters because we offer on-site support. In addition we offer a maintenance supply agreement for a minimum of seven years.
To find out more please email me apost@stratixsystems.com or feel free to call me 732.977.1211.
-=Greetings from Sandy Hook=-